Marcus
Restaurants
Downtown - Golden Square Mile
Sitting atop the lavish lobby of the Four Seasons Hotel Montréal, you'll find Marcus, a remarkably refined restaurant that prides itself in locally source cuisine and is as accessible to Montréalers as it is to the hundreds of thousands of visitors that come to our city every year.
From the mind and heart of Chef Marcus Samuelson comes a dream for food lovers who enjoy the surprise of cuisine that tastes familiar yet has an exotic edge. While mainly focused on seafood and a raw bar, the menu offers a vast selection of crave-worthy food such as beef tartare and seasonal vegetables.
Designed by Atelier Zébulon Perron, the space is dynamic and warm with tones of brass, white marble and warm honey-coloured wood. There's plenty of little corners for cozying up for a meal, and plenty of seating at the restaurant's bar stool area provides an eagle-eye view into the bustling kitchen.
The terrasse that looks out over the downtown core is great for an afternoon drink and a quick bite but also a great vantage point to see the sparkling lights of our city's ever expanding skyline.
An afternoon or an evening spent at Marcus isn't simple meant just for special events; it's an experience that's sure to become a favorite for Montréalers at heart, whether near or far.
Schedule
Mon, Tue, Wed, Thu, Fri, 6:30 a.m. to 10:30 a.m.; Sun, Sat, 6:30 a.m. to 3 p.m.; Mon, Tue, Wed, Thu, Fri, 11:30 a.m. to 3 p.m.; Daily, 5:30 p.m. to 11:30 p.m.
Brunch: Saturday and Sunday, 10:30 a.m. to 3 p.m.
Marcus
1440 de la Montagne Street
Montréal, QC H3G 1Z5


Downtown - Golden Square Mile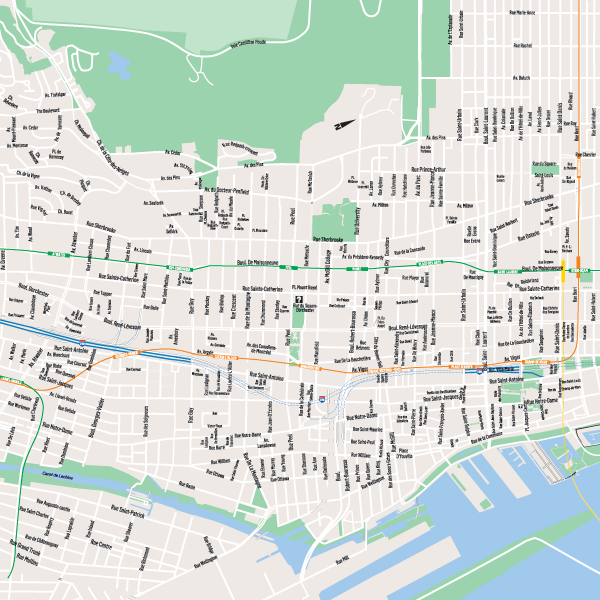 Four Seasons Hôtel Montréal
Four Seasons Hôtel Montréal
© Alison Slattery - Two Food Photographers - Tourisme Montréal
Four Seasons Hôtel Montréal