The Montréal Tower (Montréal Olympic Park)
Offsite Venues
Olympic District
Marking the cityscape, the Montréal Tower rises high above the Olympic Stadium. Its imposing structure makes a daring architectural statement and offers a unique event venue.
This exceptional site within walking distance of the Viau metro station and with over 800 indoor parking spots offers state-of-the-art facilities to accommodate a range of functions, from major conventions, trade shows and exhibitions to corporate events and business meetings.
An Observatory, a Cocktail lounge, and the Salon Montréal crown the Tower, and a Tourist Hall and Auditorium are located at its base.
The elegant Salon Montréal and adjoining Cocktail Lounge can accommodate all types of events, including product launches, press conferences, happy hours and networking opportunities for up to 200 guests.
The 181-seat Auditorium is fully equipped to meet any and all technical needs, while the Tourist Hall with mezzanine can accommodate up to 550 guests. Guests particularly enjoy the funicular ride up to the top to admire a wonderful view of Montréal and surrounding area.  
At sundown, the Tower lights up in all its splendour. Special events, holidays and even non-profit organizations looking to make a statement illumine the tower throughout the year.
Meeting planning capacity
Number of meeting rooms by capacity
Number of meeting rooms (under 150):

4

Number of meeting rooms (151 to 500):

2

Number of meeting rooms (501 to 1000):

1

Number of meeting rooms (1000 and over):

1
Maximal capacity by configuration
Maximum capacity - theatre/cocktail:

200

Maximum capacity - banquet:

150

Maximum capacity - auditorium:

181
Number of meeting rooms: 4
Characteristics
Total access for persons with disabilities
Wi-Fi
Parking for Buses
Parking ($)
The Montréal Tower (Montréal Olympic Park)
Entrance near the Biodôme
Parking: 3200 Viau Street
Montréal, QC H1V 3N7

rio@rio.gouv.qc.ca
Olympic District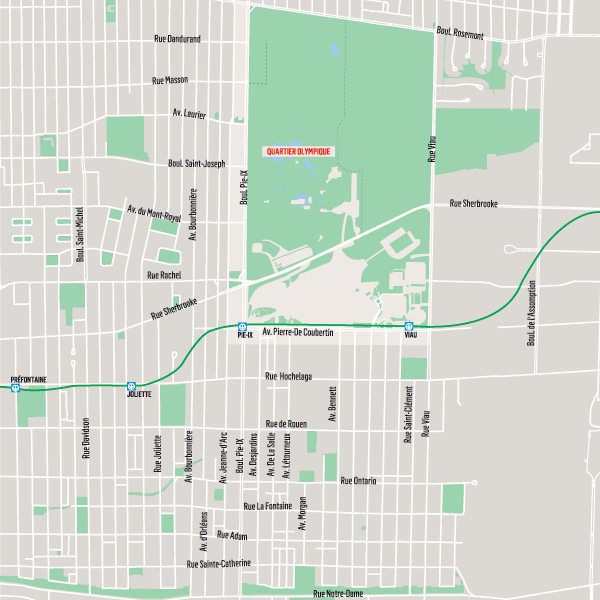 © Olympic Park, Frédérique Ménard-Aubin
© The Montréal Tower / Montréal Olympic Park