Montréal Olympic Park
Offsite Venues
Olympic District
If you're looking to make a statement with your next event, then look no further than the Olympic Stadium. This unique and grandiose Montréal monument can welcome large-scale indoor events such as shows, galas, sporting matches, trade shows, exhibitions or social events and so much more.
Ever since the world's best athletes walked its hallowed hallways during the 1976 Summer Olympic Games, the Stadium has been filled with the roar of sports fans cheering on their favourite teams or the thunderous applause of audiences following a spectacular rock concert or opera.
Easily accessible by metro and offering over 4,300 indoor and outdoor parking spots, the Stadium can be configured in many different ways and can welcome up to 60,000 people. Smaller rooms, such as the Mezzanine Est, the Salon 300 and boxes, are ideal locations to host a cocktail reception or press conference.
Stadium facilities are fully equipped to meet the most demanding technical requirements: sound system, switchgear equipment to connect to mobile television units, box office, coat check, loading docks and waiting areas for tractor-trailers. 
Réservation Parc Olympique
Meeting planning capacity
Number of meeting rooms by capacity
Number of meeting rooms (under 150):

5

Number of meeting rooms (151 to 500):

2

Number of meeting rooms (501 to 1000):

1

Number of meeting rooms (1000 and over):

0
Maximal capacity by configuration
Maximum capacity - theatre/cocktail:

180

Maximum capacity - banquet:

200

Maximum capacity - auditorium:

180
Number of meeting rooms: 5

Surface area of the largest room: 518 m² / 5580 ft²

Total surface area for exhibition: 694 m² / 7480 ft²
Characteristics
Partial access for persons with restricted physical ability
Wi-Fi
Audiovisual
Electricity and Telephone
Storage Space
Loading Platform
Caterer - Your Choice
Parking for Buses
Parking ($)
Montréal Olympic Park
4545 Pierre-De Coubertin Avenue
Parking: 4141 Pierre-De Coubertin Avenue
Montréal, QC H1V 3N7

po@parcolympique.ca
Olympic District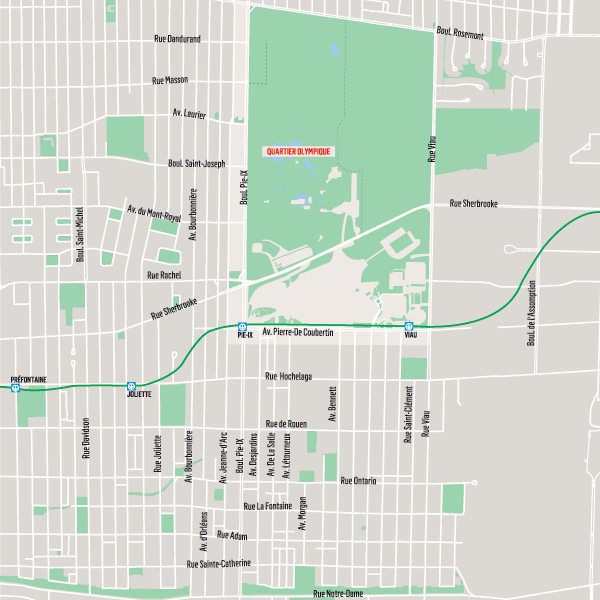 © Parc olympique de Montréal
© Frédérique Ménard-Aubin
© Parc olympique, JF Hamelin
© The Montréal Tower / Montréal Olympic Park